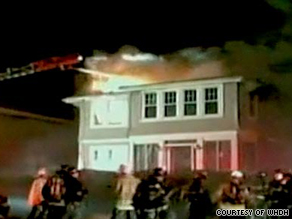 Mike Bowes is a 911 dispatcher, and on Monday he gets a call that a house was on fire. There had been some explosions, and a concerned neighbor called it in. It turns out that it was Mikes neighbor, and his house. Now tell me, out of the 90,000 people living in in Quincy, Massachusetts what are the odds that he would get the call in for his house fire?
The 911 call came in about 10:45 p.m. Monday, a little more than an hour before Mike Bowes' shift ended.

My neighbor's house just blew up, the caller said.
"What's the address?" Mike Bowes asked patiently, just as he did with every emergency call for the past 11 years with the Quincy Police Department.

The caller frantically relayed the address, Bowes' home address for 20 years.
"It was shocking," Mike Bowes said. "I thought she was kidding. It's a long shot. I mean, what's the chances it will be your house?"

From
cnn.com